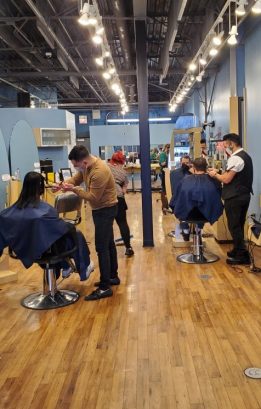 JOIN THE HIP TEAM!
Are you a hair professional who is looking for an exciting, innovative environment – a culture created and shared by hair professionals who are passionate about their craft?
Join our team at Hair Innovation Professionals – HIP Salon. We are a high-end, departmentalized salon, locally owned and operated (no corporate affiliation) for 16 years in the Woodfield-Schaumburg area.
Open Positions:
Stylist
Colourist
Receptionist
Assistant
Apply Today!
Email HIP Salon Owner Debra Hanaway at debra@hipsalon.biz.
What We Offer Our Hair Professionals
Competitive compensation, including among the highest commissions locally
Blue Cross Blue Shield health insurance with salon contribution to full-time employees' premium costs
Dental and vision insurance
In-house classes to earn continuing education (CE) hours
Updates from our vendors and partners about trends, innovations, and techniques
Ongoing training opportunities to develop new skills and specializations
401(k) available
Earned paid vacation available
Education (with travel) reimbursement available
Support staff services including hair washing, scheduling, marketing, and administrative
Positive, constructive feedback
Highly collaborative, team environment
Stylist or Colourist Requirements
Current Illinois Cosmetology License
Graduate from cosmetology school
3+ years' on-the-floor experience
Flexible scheduling available
Ability to stand for long periods of time
Excellent communication skills
Reliable transportation to meet scheduling needs
Proper tools to perform professional services for clients
Established clientele a plus, but not required
Why Join HIP?
At Hair Innovation Professionals, we endeavor to educate and motivate our salon team to the highest achievable level, allowing us to create the utmost positive, professional, and creative atmosphere for clients and staff. Our mission is to reflect this energy to better serve our clients in new trends, products, and services.
How to Be a Successful HIP Team Member
Give excellent client service – always.
Communicate.
Present a professional image. Be professional and respectful to clients and staff.
Be neat. Keep your station, equipment, and tools clean.
Chat up our salon services and products.
Manage your time. Be punctual.
Attend all classes and staff meetings.
Be a team player.
Show your PASSION for our craft!
GET HIP! STAY HIP!
"Hairdressers are a wonderful breed. You work one on one with another human being, and the object is to make them feel so much better, and to look at themselves with a twinkle in their eye."

– Vidal Sassoon