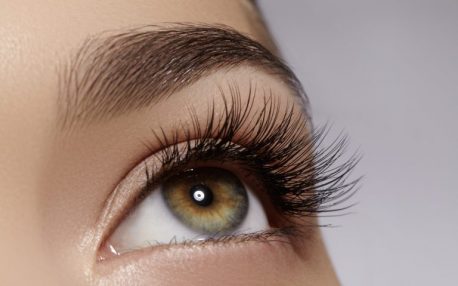 "Eyelash extensions look and feel real. The overall effect is added curl, thickness, and length. Your eyes appear more open. You look younger and more natural."
Lashes that Rock
Throw away your mascara and eyelash curlers! Eyelash treatments are the perfect alternative to the hassle and mess of makeup.
HIP offers
Eyelash Extensions
Eyelash Perming
Eyelash Tinting
Volumation
Eyelash treatments are not just for special occasions; they are constant fixtures in your beauty arsenal. The result is stunning eyelashes that enhance eyes of every shape and color.
Make an appointment with a HIP eyelash technician to see if eyelash treatments are right for you.
What are Eyelash Extensions?
Xtreme Lashes® Semi-Permanent Eyelash Extensions are single strands of synthetic lashes that are applied on to your own natural lashes. Each synthetic strand is tapered at the tip with a thick base and curled to replicate a natural lash.
Xtreme Lashes® Lash Stylists meticulously and delicately attach one lash extension to one natural lash at a time for a total of 60 to 120 lash extensions per eye.
Are these the same as press-on, false lashes?
No. While eyelash strips are inexpensive, they usually only last a few days. Our line of eyelash extensions are semi-permanent.
You can get great lashes in about two hours and they stay on for weeks. Plus, they last longer and look more natural than glue-ons.
How long do the extensions last?
Overall, they last 4-6 weeks, depending on the life cycle of your natural lashes as well as other factors.
Did you know the average cycle of a single, natural eyelash is about 90 days? However, factors such as your eyelash characteristics, lifestyle and general care of your lashes will affect how long your lash extensions will last.
Through proper maintenance, typically they will last 2 to 3 weeks after your initial application before you need a touch-up.
What do they feel like?
They look and feel weightless. Each application is customized to suit the individual.
Is the application process painful?
No. During your Xtreme Lashes application, you will comfortably recline with your eyes closed. The application is painless and wonderfully relaxing and rejuvenating. Clients typically fall asleep then awaken to longer, thicker, darker and more voluminous lashes.
How long does the process take?
Depending on the expertise and experience of the lash stylist and the number of lashes being applied, it generally takes between 120 to 150 minutes to apply a full set of Xtreme Lashes extensions. Touch-ups can be done in as little as 45 to 60 minutes.
I have allergies. Can I wear them?
Yes you can, but if your allergies cause itchy, watery eyes, you may want to reconsider. Due to the swelling of the eyes from the allergies, it could cause the lashes to poke and become uncomfortable to wear. Ask your technician for more details.
Can I exercise while wearing the extension? How about swimming?
Yes. The specially formulated adhesive allows you to shower, swim, exercise, sleep and spa worry-free. However, please do not swim or spa or exercise for 48 hours after the procedure to allow the bonding agent to fully cure.
How much do Eyelash Extensions cost?
The major investment in Xtreme Lashes® Eyelash Extensions consists of the initial full set, typically between 70 and 120 lashes per eye. At HIP Salon, a full set of lashes costs from $250 to $350 depending on how many lashes are applied.
With your first lash application, your first touch-up is complimentary within the first two weeks.
What is Volumation?
Volumation is an innovative technique in which multiple extensions are attached to one lash to give more dimension and texture.
MORE ARTICLES ON EYELASH TREATMENTS