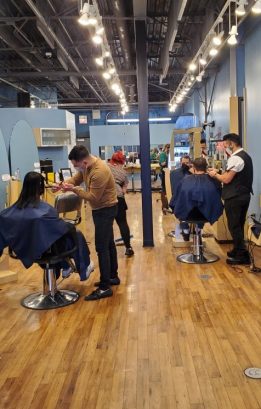 Continuing Education for Hair Professionals
Hey Hair Pros:
Earn CE credits for your Illinois Cosmetologists License renewal, and learn the latest hair trends and techniques for our HIP educators.
High-quality learning, close to home
Hair Innovation Professionals (HIP Salon) is a State of Illinois-certified cosmetology continuing education provider. Our classes provide CE credit hours, which can be applied to the state's requirement to maintain a cosmetology license in Illinois. CE credit hours vary depending on the class.
Our Hair Innovation Professionals educators have 4 to 35 years of experience in working at a high-end, departmentalized, trend-setting salon. They also have trained with master educators at Bumble and Bumble University, Schwarzkopf and Sassoon-London.
Our team of Hair Innovation Professionals values continuing education for all hair professionals and cosmetologists.
We believe peer-to-peer education is absolutely necessary to uphold the professional standards of our industry. Through ongoing training, our colleagues are able to improve their skills and knowledge to better serve clients' hair and beauty needs.
At Hair Innovation Professionals, we are passionate about creating educational programs that keep our colleagues on the leading edge of trends, products and styles. Watch for future classes in hair-styling and men's cutting.
We invite licensed cosmetologists to call us at 847-882-4474 to learn more about our upcoming classes or to be added to our Hair Innovation Professionals CE Program mailing list. Or email Debra Hanaway at Debra@hipsalon.biz/
All classes are held at HIP Salon, 174 E. Golf Rd., Schaumburg.
En Español También
También ofrecemos clases de cosmetología de educación continua en español. Llámenos para más información: 847-882-4474.
About Our Educators
Debra Hanaway
Stylist/Director of Education
A stylist for more than 40 years and educator director for over 26 years, Debra is thankful to have been taught by educators from Chicago, London, NYC, and Canada.
Salvatore Turco
Stylist/Educator
A stylist for more than 25 years and lead educator for HIP Salon, Salvatore is thankful to have been taught by educators from the Chicagoland area and NYC.
Esteban De La Torre
Stylist/Educator
A stylist for more than 10 years and educator at HIP Salon, Esteban is thankful to have been taught by educators from the Chicagoland area, NYC and California.
"Tell me and I forget,
teach me and I may remember, involve me and I learn."