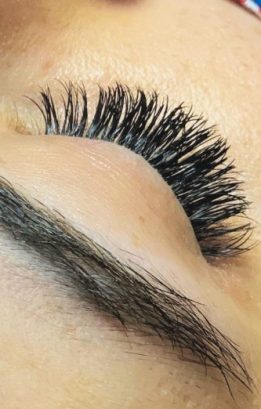 SUBHEADING
Lashes that Never Run
BY JEANINE
EYELASH EXTENSION TECHNICIAN
When it comes to your summer makeup, you don't want raccoon eyes.
Is there a better way to escape the mascara drama? Xtreme
Lashes® Eyelash Extensions is the answer.
And you can get these thick, long, dark
lashes at HIP Salon.
Eyelash extensions create the appearance of a brighter, more open and rested eye, thereby creating a more youthful and rejuvenated look.
Xtreme Eyelash Extensions will give you the appearance of having put significant effort into your eye makeup so you can say goodbye to the application of mascara.
Without having to use mascara your
summer will be a breeze. You will look
and feel gorgeous from the moment you wake up until the moment you fall asleep.
Plus, you'll makeup application time will be dramatically cut — meaning more time to enjoy the warm sun as well as outside activities.
Most people choose Xtreme Lashes
Eyelash Extensions to lengthen their natural lashes while others want their lashes to look fuller.
Those with naturally light-colored lashes choose to have eyelash extensions to darken their
existing lashes.
Eyelash extensions look and feel completely real. The overall effect is added curl, thickness and length, opening up the eye for added definition.
They are flexible and move with your natural lashes. With routine touch-ups every two to four weeks,
it is almost impossible to tell that you are wearing the extensions. You will not feel the addition of the extensions to your lashes, and they will not
cause your natural lashes to fall out ahead of their natural cycle as other enhancement methods can.
Meet with one of our eyelash extension technicians to learn more about Xtreme Lashes® Eyelash Extensions and make the
move to creating longer, thicker, more
beautiful-looking eyelashes.
"A blockquote highlights important information, which may or may not be an actual quote."