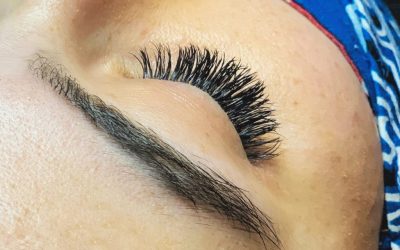 5 HIP Tips for Loving Your Lashes
24-HOUR RULE: As always no
water, NO pool water within
24 hours of getting lashes
done. It is highly recommended to
keep your lashes dry for the first
24 hours after a lash application or
touch-up. The adhesive used to apply
our lash extensions needs ample
amount of time to cure. Avoid eye
makeup, swimming, saunas, suntanning,
and heavy workouts for
the first 24 hours.
SWEAT: Summer and
exercise equals sweat. Sweat
contains natural oils and salt
deposits that, if left on your lashes,
can cause a crusty buildup. To
combat the effects of sweat on your
lashes, have a towel on hand to
keep sweat away from dripping in
your eyes or if comfortable, wear a
sweatband. Be sure to always rinse
your lashes with fresh water after a
workout or run.
SWIMMING: Rinse your
lashes after swimming. Always
rinse your lashes with
fresh water after being in chlorine
and salt water. Be sure to pat dry always,
no rubbing, to remove excess
water.
NO HEAT: Avoid extreme heat
near your lashes. When you're
grilling, opening an oven, or
getting cozy by a fire, remember
extreme temperatures can singe
you lashes, be cautious to not get
too close.
NO OILY SUNSCREEN: Oil-based
skincare products have a bad
reputation for breaking down
the adhesive. Look for a sunscreen
with an oil-free formula. Use caution
when applying your sunscreen
to ensure it fully soaks in before
swimming and always avoid the eye
area. As always make sure your eye
makeup and remover is oil-free.
Jeanine is a HIP Eyelash
Extension, Perm & Tint Technician. Ask her about the best way to extend the life of your eyelash treatments.