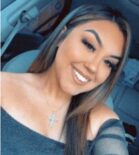 HIP Salon is proud to announce that Yvette Leon has joined the Hair Innovation Professionals colorists team.
Yvette graduated from beauty school and entered the HIP Salon Training Program two years ago, where she has undergone intensive training in colour processes.
Yvette specializes in Balayage, corrective color processes, color melting, highlights, and double processes.
"I love being able to boost my clients' self-confidence by making their hair more beautiful," Yvette said.
Her schedule is Tuesdays through Saturdays. Call 847-882-4474 to make an appointment with Yvette.